Building Club
Building Club
The Building Club is a weekly gathering for everyone interested in getting to grips with the tools and skills necessary to be creative using the virtual world!
Sessions will examine everything from the basics of building to more advanced tricks like animation and scripting, and even the application of free third party tools for the creation of assets to use in and on your creations. Each week will have a focus, such as a particular building or scripting project, and sessions take place on Wednesdays between 11:00am and 1:00pm. The learning environment for the Building Club will also link with a repository of materials for everyone to use in their own projects.
If you're interested in gaining or polishing skills as a virtual world content creator, please let us know by sending an E-mail to: info@autus.org.uk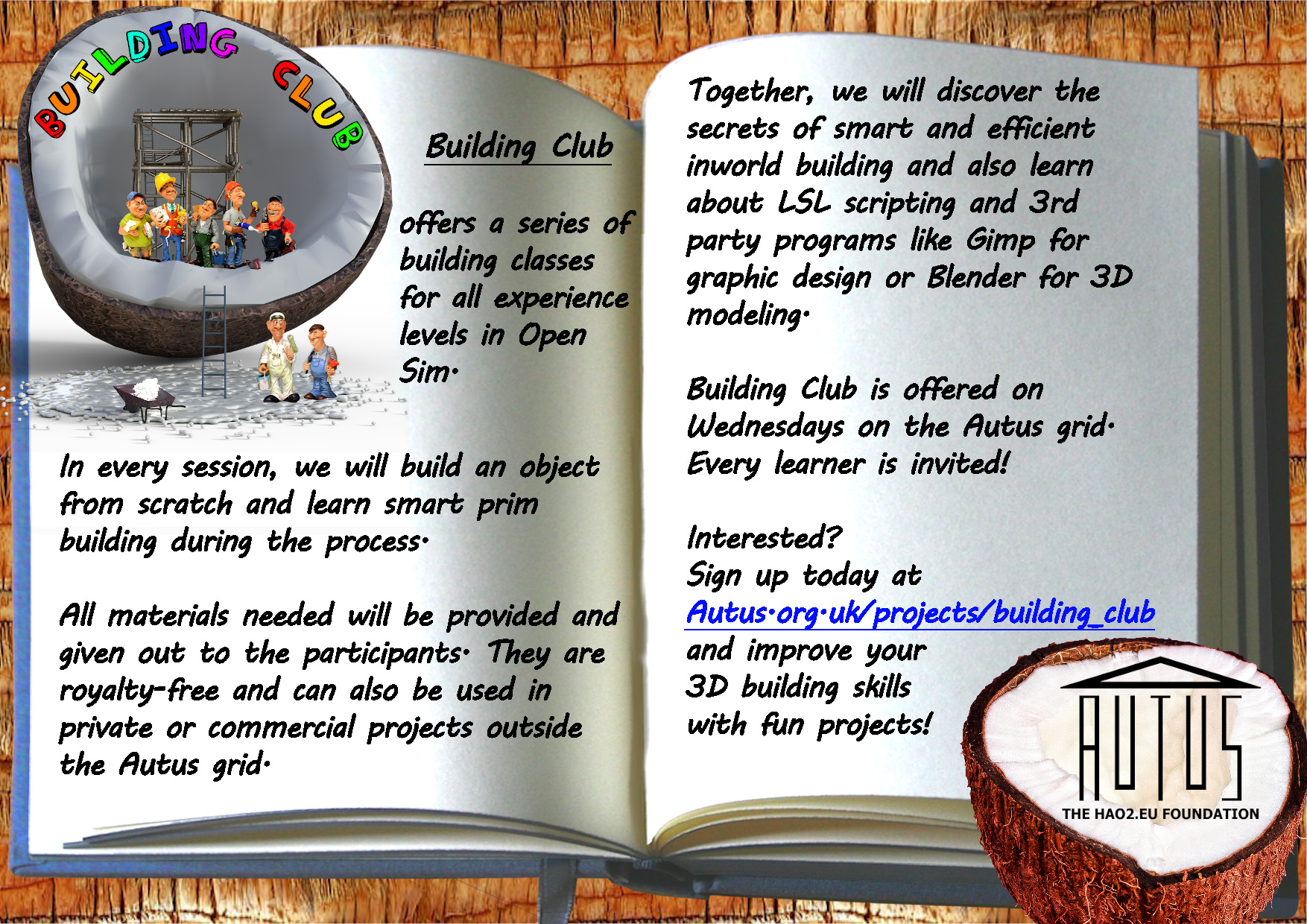 Schedule 2020
5th February
Candlestick

For this first session we will be building a wooden candlestick with a decorative metal ornament, whose flame can be switched on and off with a touch.

We will learn how rezz and twist prims until they match our needs. We will get to know the Edit Window and find out what we can do with all the numbers and boxes in the different tabs.

During the process, we will learn some basic but very useful building tricks to help us align our prims and make the building process easier. We'll also find out how to use scripts, and how to determine the root prim when we link our build.

12th February
Campfire Part 1: The Fire

This week we will build a campfire in a circle of stones, to keep you warm on cold evenings.

In this class, we will get to know sculpted prims and how to make them from premade sculpt maps. We will also cover the Light function in the Features tab and find out about permanent effects on prims.

19th February
Wishing Well

We are building a wishing well this week, with a rainbow stretching over it and stars gently falling into its waters. When you touch it, you will hear a coin dropping into the water and receive a personal blessing in Local Chat as an Instant Message (only you can hear it).

In this class, we use regular prims and scripts, and we will go deeper into how to align our prims properly by numbers.

26th February
Dream Catcher

This session we are building a beautiful dream catcher from all regular prims, that catches dreams for you and guards your sleep.

In this class, we will cover some heavy prim twisting and learn how to work with flexible prims. We have a lot of prims to deal with, so the pace of the class will be quite fast. As usual, we will enhance our build with a script in the end.

4th March
Campfire Part 2: The Seats

This week we will build some seats to add to our campfire build. In this class, we will focus on the scripts and learn how to make our own sit scripts, perfectly adjusted to our seats and poses by using a simple and free tool.

You don't need to have been to the campfire class to attend this session. Though the builds are related and we will keep the campfire theme, this project is self-contained and you don't need the campfire to finish it.

Please note that this will be a master class, so the building itself will go rather fast and we will not be going into building basics. The prims will be easy, so we have enough time to focus on the scripting part.

11th March
End of Term: Show and Tell

For this final session of the term, we will meet to review our process and what we achieved during our time in Building Club. We will also handle questions that turned up during the process and plan our sessions for the next term.

In the second part of the session, participants can show us their best creations from other sessions and tell us about how they were made. Please make sure you bring your build if possible, so we don't have to hop around the grid to see them. We will have enough room, even for bigger structures.
---